---

WA1NPO Plimoth Plantation Special Event

---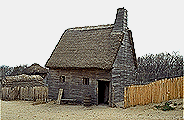 DIRECTIONS TO PLIMOTH PLANTATION
<>The suggested frequencies listed in December QST are <> 18.140, 14.280, 7.250, 3.890 <>
CQ CQ CQ – THIS IS THE WA1NPO SPECIAL EVENT STATION
OPERATING FROM THE HISTORIC PLIMOTH
PLANTATION – LOCATED IN PLYMOUTH ,
MASSACHUSETTS , OVERLOOKING CAPE COD BAY .
A SPECIAL EVENT CERTIFICATE WITH A FULL COLOR PHOTO OF THE MAYFLOWER II IS AVAILABLE TO ANY HAM or SWL WHO SENDS CONTACT TIME AND FREQUENCY AND A "GREEN STAMP" TO HELP WITH EXPENSES, TO:
WHITMAN A.R.C.
QSL INFO. ON pg. 79 / Dec. QST
P.O. Box – 48
WHITMAN , MA 02382
Complementing our HAM station at the visitor center is the chance for any one stopping by, to send a RADIOGRAM from the Plantation free of charge via Amateur Radio. Licensed Radio Gram operators are on duty.
The Plimoth Plantation, ( 62 miles south of Boston), is a living museum where you step back in time to 1627 and visit a Pilgrim settlement and Wampanog Indian Home site where you are free to walk among the Pilgrims and Indians to encounter first hand what life was like in early America almost 400 years ago.
The actors will talk freely about their lives and daily tasks, speaking in the dialect of the time. They, of course, know nothing of such things as clocks, electricity, telephones, television, radios, computers, or any of our modes of modern transportation, which for them was principally by foot or beast of burden.
Another part of the museum is <> Mayflower II <> located in Plymouth Harbor , about 3 miles north of the Plantation . It is an accurate reproduction of the type of ship, which transported the 103 Pilgrims to the new world.
---

Here are some pictures from one of the events in the past.