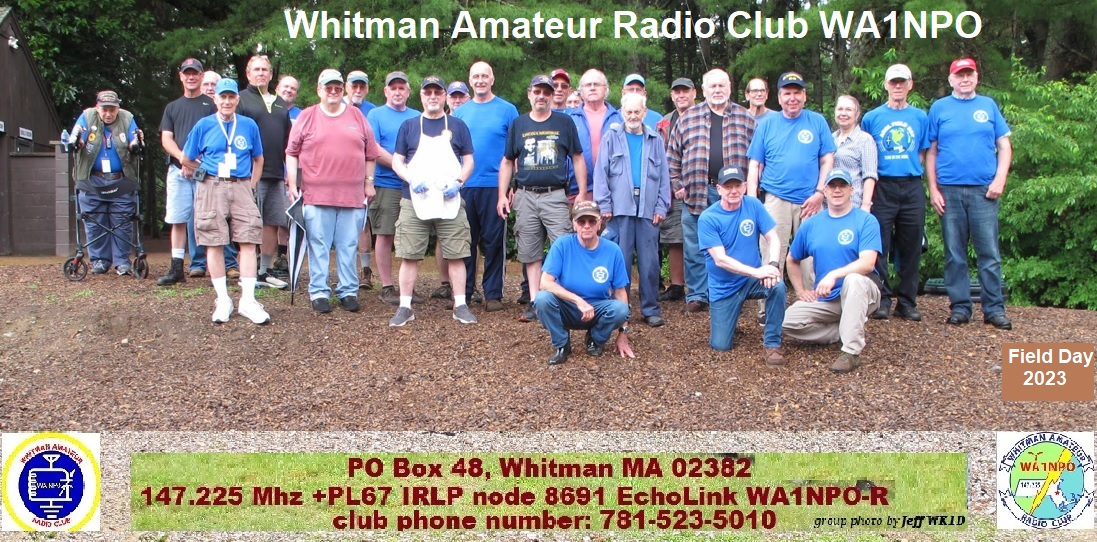 ---
---
Our next Monthly Meeting will be

Dec 06, 2023 @ 7PM

it will be a hybrid meeting at the

Whitman K of C

on Route 18 and via

Zoom

. For

Zoom

a link will be sent out to the membership and guests via email. . .

NOTE:

On the Night of the on-site Monthly Meeting at the K of C the 28.333 Rag-Chew Net will not be run.

[Next Club event and other Events]:


Plimoth Patuxet Museums annual event returns
Thanksgiving 2023 weekend

Thank You to all Check-ins and those
who participated last year !!

Hours: Setup Friday Nov 24'th 10AM to 12PM
On the Air time Sat Nov 25'th 9AM to about 3PM
On the Air time Sun Nov 26'th 8:30AM to about 3PM
Take down about 3PM

We will be using special event callsign NI1X monitoring the WA1NPO repeater on 147.225 Mhz Tone 67.0.

Our HF station will cover 80 through 10 Meters. We will be spotted on

My DX Summit Link: DXSUMMIT

Link to Plimoth Patuxet Museums for directions and info
on the Museum.

Plimoth Patuxet Museums Website


New !!!! Winter-Fest 2024
Sponsored by Whitman ARC
Saturday Jan 20, 2024

WARC's annual First Best HamFest of the Year !!!
Amateur Radio Flea Market Opens 9AM to 1PM.
Table Setup starts at 7am.
Walk-ins $5. Tables $15.
Raffle Prizes include High Power HT's, and gift certificates

Whitman Knights of Columbus
Route 18, 1195 Bedford St. Whitman MA 02382
Checks for tables can be mailed to:
Whitman Amateur Radio Club
PO Box 48
Whitman MA 02382
Link to event PDF: WinterFest Flyer

Link to WinterFest Paypal Page

2023 Field Day Photo at East Bridgewater YMCA with Fred Kemmerer AB1OC from the ARRL




Photo by AB1QB Anita Kemmerer

** Training update NEW Start Date**

.

Whitman ARC

finished a successful Technician Class with 5 new

Amateur Radio Operators. Thank you to the training crew and students!.

Next training

will be an

Extra Class

class and run about 6 weeks. The course will conclude with a VE Session.

Start Date TBD Early 2024

Please contact our trianing manager. Info below

Thank You to all who atteneded the last Technician Class and Congrats to all who passed the VE Exams.
Classes are normally held in the Whitman MA Police station in the training room and via Zoom.

Please let us know if you are interested in attending a class..

Class

are held

Tue

and

Thurs

evenings from

7PM to 9PM

.
See the contact info below.

Training Inquiries:

Please send an email to

warc.training@gmail.com

or

bavarianradio@comcast.net

A VE Session will follow the classes also at the Whitman Police Station at 7PM on "TBD".

Click here for more detailed WARC Training INFO
What is Ham Radio


Net Logs We run several weekly and monthly nets.
See who's been checking in!

Nov 05th

:
Jeff WK1D

Nov 12th:

Mike KB1OEP

Nov 19th:

Bob WA1Q



*Nov 26th:


Jeff N1SOM

Dec 03rd:

Jeff WK1D




*Note We will be at Plimoth Patuxet Museums

annual event

n
Local Nets:


WA1NPO 147.225 Mhz WARC Weekly Public Safety Net Sundays @ 8:30 AM

WA1NPO 28.333 Mhz USB 10 meter Weekly Rag Chew Net Wednesdays @ 8:00PM

Thick as a Brick Net 75 Meters 3.923 Khz LSB Monday evenings @ 8:00 PM, Net Control W1EKG Ross.

W1MV 147.180 Mhz Massasoit Amateur Radio Assoc. Weekly Meeting on the Air Tuesdays @ 8:00 PM Info: http://www.w1mv.org/

K1USN SST Weekly CW Slow Speed [con]Test Fridays 4:00 to 5:00PM & Sundays 7:00 - 8:00PM Info: http://www.k1usn.com/sst.html


K1USN 145.390 Mhz Weekly Net on W1ATD Marshfield Repeater Saturdays @ 9:00:AM Info:

ATTN: Great Hill Gang

145.390 Mhz Weekly Swap Net

on

W1ATD

Marshfield Repeater Fridays @ 8:00:PM ( Now Echo-link Accessable ).
On the air Swap Net will start up on Friday Sept 8, 2023. Items may still be posted by contacting the GHG Facebook Page.

News : The Great Hill gang is officially a club and has a new call sign "K1GHG". Congrats!!
Next Great Hill event on Great Hill in Weymouth Sunday Nov 19'th due to rain on Saturday. .


Great Hill Gang 144.244 Mhz 2 Meter USB Weekly Single Sideband Net Mondays @ 7:00:PM Still running through the Summer

W1QWT 53.330 Mhz tone 71.9hz Now Weekly on the Norwell 6 Meter Repeater FM "Q" Net Sundays 4:30 to 5:30 PM

W1JLI 147.210 Mhz Norwood Amateur Radio Club Weekly Net Tuesday Evenings @ 8:00 PM Info: https://norwood-arc.org/

2021 Log Yankee 6 Meter Single Sideband Net on 50.272 Mhz USB Weekly Sunday Morning @ 9:30AM Info: http://yankee6meterssbnet.blogspot.com/


Whitman Amateur Radio Club Info*

The Whitman Amateur Radio Club is located about 25 miles south of Boston, MA, near the city of Brockton. Club meetings are held the first Wednesday of each month at the Whitman Knights of Columbus Hall on route 18 just south of the Abington line. The meetings start at 7:00 PM.

Post Office Box 48
Whitman, MA 02382
ARRL Club #0082
Club Call Sign: WA1NPO

Membership Application

pdf Club By-Laws

pdf
Membership dues: $25/year
*The Whitman Amateur Radio Club is a 501(C)(3) non-profit organization.
*The Whitman Amateur radio club is a proud member of the ARRL http://www.arrl.org/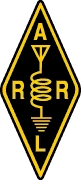 2023 Board as of July 1st, 2023
**Congratulations on the new officers**

Health and Welfare

submissions contact: Richard AGIB at rjmetcalf@comcast.net or 508-763-2666
Visit us on Facebook also! <click here>
---
We have plans on completely rebuilding this site with WordPress soon, if you have any ideas or experience with WordPress, please contact Jeff AJ1L here.

---
[back to the top]